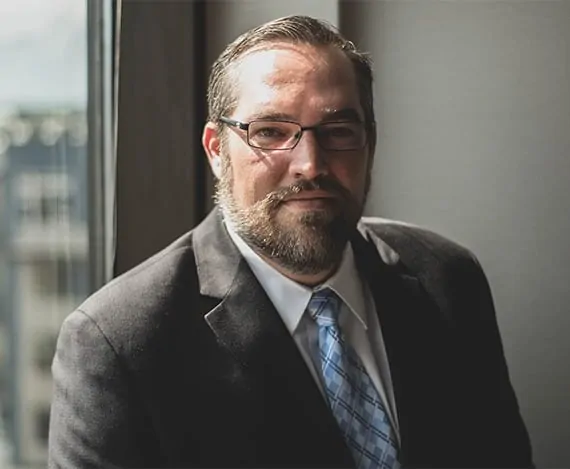 Patrick J. Sullivan is proud to serve his community's legal needs and does so with passion.  His father, retired Lt. Commander William J. Sullivan, moved the family to Virginia Beach in 1984. He graduated from Cox High School in 1995 and received his bachelor's degree in Business Administration from Belmont Abbey College in 1999.
He attended Barry University School of Law in Orlando, Florida, where he later became a Public Defender serving Orange and Seminole Counties.  Upon returning to Virginia Beach in 2007, he expanded his practice to the areas of Family Law and Civil litigation, while continuing to succeed in the areas of Criminal and Traffic defense.  Mr. Sullivan enjoys being in the courtroom and has experience in General District Court, Circuit Court, Juvenile and Domestic Relations Court, and even the Virginia Court of Appeals. The primary goal of his practice is to explain the "whys" of the legal matter to his clients and bring his considerable experience and knowledge of local courts to bear in crafting solutions.
What You Can Expect from Me:
Understanding
– I understand that for all my clients, their forced introduction or return to the legal system can be frightening and stressful. In these difficult times, I will use my experience and knowledge of your legal matter to assist you in reaching your goals. Family law matters especially, have a way of forcing you into difficult decisions that are fraught with emotions. I look forward to being there with you to help you along the way to reach a satisfactory conclusion.
Education
– I cannot state how often clients come to my office with the story of, "I am not sure what happened in court. Last time the lawyers got together and talked," or "I don't know what happened, but this is what the piece of paper says." While I will be the first to admit, that I too attempt to work with my colleagues in the legal profession to bring about solutions of an equitable (and ultimately cheaper for the client) outcome, I want the client to understand why. The outcomes of these suits affect your everyday life. They affect your children and sometimes your freedoms. I want you to feel informed and a part of every decision throughout the process.
Communication
– Communication between us is paramount to building our relationship of trust. It is important that I understand your goals for a particular case. It is also important that, based on the facts and goals you have presented, that I give you a realistic expectation of how your case may be resolved. By staying in contact with each other, we will both be well prepared for court. As a solo practitioner, I enjoy that I can give each of my client's my personal attention. Clients deal with me directly, and have direct access to getting their questions answered.
Truthfulness and Cooperation
– There is an old saying that you should never hold back from two people in your life, your doctor and your lawyer. I ask that when you communicate with me, you do so openly. In order to understand your goal for the case and to most effectively represent you, I need to be familiar with the facts we are facing, good and bad. That means working with me to best prepare your case for trial.